Academic Scholarship Program

The Silver Caduceus Assn. awards academic scholarships to eligibile applicants based on proven academic ability, exhibited leadership skills, community service, demonstrated personal financial need and other special considerations.

Apply for a scholarship or learn more.


Awards and Recognitions

The Silver Caduceus Assn. is proud to honor its members with several special awards.

Read more about these awards.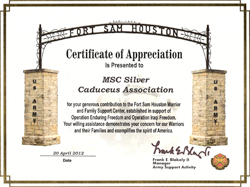 The SCA receives Certificate of Appreciation for their SCA donation in the name of MG David Rubenstein for his support doing his tenure as our MSC Chief!

See a larger PDF version.