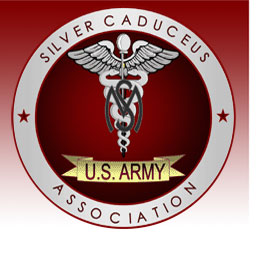 Check the latest SCA news:


SCA Spring 2017 News (PDF)


News Archive:
---
SILVER CADUCEUS SOCIETY FORK POLK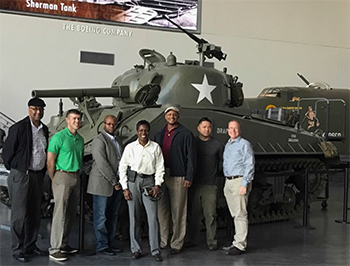 Fort Polk Silver Caduceus Society members conducted a Staff Ride to the WWII Museum in New Orleans, Louisiana. Pictured in order left to right are: Mr. Lewis (Retired MSC Officer), CPT Brian Tilly (Chief, PTMS Hospital Adjutant), MAJ Glasco (Chief, Clinical Support Division), COL Blanding (BJACH Commander), MAJ Reed (Chief, Logistics Division), MAJ Penacerrada (Chief, Information Management Division) and LTC Hartman (Deputy Commander for Administration). This event was conducted to promote esprit de corps within the Fort Polk Silver Caduceus society and provide historical professional development and enhanced knowledge about WWII from a medical perspective.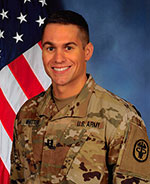 Captain Taylor John Whitten –
Honor Graduate of the Captains Career Course
Read more. (PDF)

SCA October 2016 News (PDF)

SCA September 2016 News (PDF)

SCA August 2016 News (PDF)

The Regional Health Command – Atlantic (P) - (RHC-A (P)), Ft. Belvoir, along with the Fort Belvoir Community Hospital, hosted the 99th Birthday celebration at the hospital on 30 June 2016.
Read more. (PDF)

McDonald Army Health Center celebrated the U.S. Army Medical Services Corps (MSC) 98th Anniversary with a guest speaker and cake cutting ceremony. Read more. (PDF)

On March 10-12, 2016, the Vietnam Center and Archive at Texas Tech University, Uniformed Services University of the Health Sciences, and the Army Medical Department Center of History and Heritage will be co-sponsoring a conference on the medical history of the Vietnam War. This two-day conference will be hosted at the Doubletree Hotel, San Antonio, Texas. Read More. PDF

1LT John M. Arroyo Jr. received the Soldier's Medal on Monday, April 6, 2015 at BAMC. Read more.

SCA March 2016 News (PDF)

SCA February 2016 News (PDF)

SCA 2015 Winter News (PDF)

Celebrating MSC's 98th Birthday!

On June 30th Medical Service Corps Officers and Warrant Officers got together to enjoy camaraderie and fellowship all over the world in celebration of the 98th Birthday of our Corps. BG Pat Sargent and the MSC Corps Chief's Staff encouraged the events and the Silver Caduceus Association sent out the call to 30 of our members to offer assistance for the celebrations. In all, there were at least 14 MSC Birthday Celebrations and likely many more events on our birthday. Read more. (PDF)

McDonald Army Health Center celebrated the U.S. Army Medical Services Corps (MSC) 98th Anniversary with a guest speaker and cake cutting ceremony. Read More. (PDF)

1LT John M. Arroyo Jr. received the Soldier's Medal on Monday, April 6, 2015 at BAMC.
For heroism above and beyond the call of duty, on 2 April 2014, the President of the United States of America, authorized by Act of Congress, 2 July 1926, has awarded the Soldier's Medal to Lieutenant John M. Arroyo Jr., 566th Area Support Medical Company.
Lieutenant Arroyo's heroic actions while clearly distinguishing himself in his performance during the fatal incident on Fort Hood, Texas. He was heroically involved in personal harm and danger, voluntarily risking his life to save the lives of fellow Soldiers. Lieutenant Arroyo's heroic actions are in keeping with the finest traditions of military service and reflects distinct credit upon himself, the 566th Area Support Medical Company, the 1st Medical Brigade, the 13th Sustainment Command (Expeditionary), III Corps and the United States Army.

SCA 2015 Summer News (PDF)

Spring 2015 - AMEDD Historian No. 9 (PDF)

SCA 2015 Spring News (PDF)

SCA 2015 Winter News (PDF)

SCA 2014 November/December News (PDF)

Obituary of Ernest F. Rezendes (PDF)

Earl & Betty McSwain 70th Anniversary (PDF)

LTC Cephus Lee Roupe Memorial Bridge Dedication (PDF)

SCA Top Twenty Accomplishments – 2014 (Power Point Presentation)

Autumn 2014 - AMEDD Historian No. 8 (PDF)

SCA 2014 September News (PDF)

SCA 2014 August News (PDF)

Summer 2014 - AMEDD Historian No. 7 (PDF)

SCA 2014 July News (PDF)

Spring 2014 - AMEDD Historian No. 6 (PDF)

SCA 2014 June News (PDF)

SCA 2014 May News (PDF)

SCA 2014 April News (PDF)

The 2014 Spring AMEDD Historian - No. 5 (PDF)

SCA 2014 March News (PDF)

SCA 2014 January News (PDF)

SCA 2013 December News (PDF)

SCA 2013 November News (PDF)

SCA 2013 October News (PDF)

SCA 2013 August News (PDF)

SCA 2013 July News (PDF)

SCA 2013 June News (PDF)

SCA 2013 May News (PDF)

SCA 2013 April News (PDF)

AMEDD Spring 2013, Newsletter (PDF)

SCA 2013 Spring News (PDF)

SCA 2013 March News (PDF)

SCA 2013 February News (PDF)

SCA 2013 January News (PDF)

SCA 2012 December News (PDF)

Summer 2012 Semi-Annual Newsletter (PDF)

SCA 2012 October News (PDF)

SCA 2012 September News (PDF)

SCA 2012 August News (PDF)

SCA 2012 July News (PDF)

SCA 2012 June News (PDF)

SCA 2012 May News (PDF)

SCA 2012 April News(PDF)

SCA 2012 March News (PDF)

SCA 2012 February News (PDF)

SCA 2012 January News (PDF)

SCA 2011 December News (PDF)

SCA 2011 November News (PDF)

SCA 2011 October News (PDF)

SCA 2011 September News (PDF)

SCA 2011 August News (PDF)

SCA 2011 July News (PDF)

SCA 2011 Summer News (PDF)

SCA E-News – June 6, 2011 (PDF)

SCA E-News – May 10, 2011 (PDF)

SCA E-News – March 5, 2011 (PDF)

SCA E-News – January 15, 2011 (PDF)

SCA E-News – February 10, 2011 (PDF)

Fall 2010 News (PDF)
Winter 2009/2010 News
(PDF)